Wide beam house boat
Take a peek at how we created the visually stunning and technically showstopping "Purple Haze" for Darren and Ria, who decided to sell their house and embark on a new adventure.
The build up
Darren and Ria first came to us in September 22, when they had both decided that it was time to embrace a new life on the water. Over the next few weeks, we met several times to really dig deep into their brief and make sure we had every piece of information we needed before we put pen to paper on the designs.
With the goal of travelling up and down the Grand Union Canal, but also wanting to moor up and enjoy the fruits of their labour, we knew that it had to be a wide beam houseboat that would give them the best of both worlds. They were also very specific that they wanted something that "nobody else had". Thankfully, that's our specialty here, so we got to work.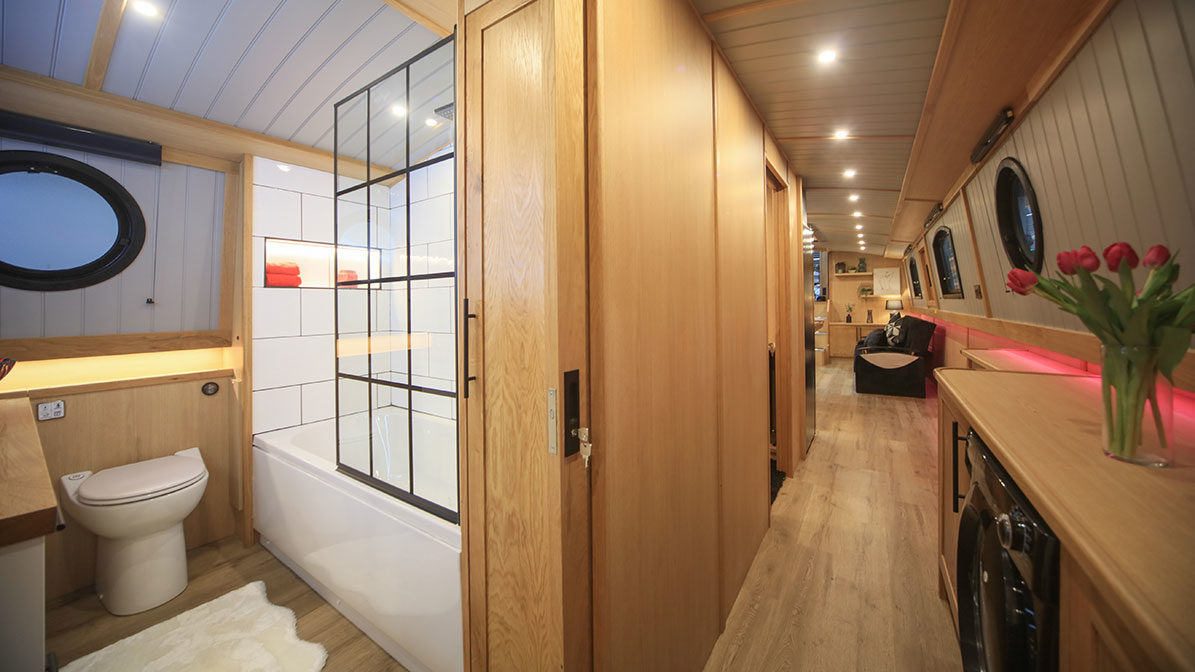 The visually stunning and technically showstopping "Purple Haze" was created for Darren and Ria, who decided to sell their house and embark on a new adventure.
The build
As you may have guessed by the name of this vessel, it really does make an impact wherever it goes. That's because we sourced bespoke "Cadbury Purple" paint for the exterior, which is mirrored on the inside throughout the build.
With Darren being a sound engineer, he was also keen to include some modern creature comforts and high-tech solutions that suited their individuality. Not a problem for us. The bespoke kitchen was fitted with an American-style fridge freezer, and we brought in a 65-inch TV with accompanying media unit that we built around the electric fire in the living room.
The entire vessel was equipped with upgraded solar energy, smart lighting, and linked to Alexa for fully remote control. We also built a second bedroom as they were keen to host guests on their travels, and installed stunning skylights in the bedroom and living room to bring the outside in.
But it's the little things that make all the difference. That's why we built a storage step that wrapped around the bed, which reduced the drop to the floor for kids, pets, or guests who may have had a few too many shandies at dinner. We also replaced the standard steel sliding hatch on the boat with a uPVC alternative, which is much lighter to lift, and installed a water freedom filter, which meant that they would have to spend less time stopping for supplies.
"We chose Bespoke Boat Bo. to build our widebeam over others because of their professional attitude quality of service. They have fully lived up to their word and build us a stunning widebeam with unprecedented attention to detail. I'd 100% recommend them."

Darren & Ria
Specs
Dimensions
Length – 60ft
Beam – 12ft 6″
Propulsion
Diesel engine – Canaline 60
Layout
Kitchen, living space, bathroom and two fixed double storage beds
Furniture
Solid oak carpentry throughout
Flooring
Oak veneer Amtico straightlay
Kitchen
Custom build with American-style fridge freezer
Bathroom
Custom red glass feature basin with LED mirror, shower and bath
Internal Decoration
Solid oak carpentry throughout and red wool twist carpet in master
Exterior paintwork
Custom sourced 'Cadbury Purple'
Window style
Portholes (cabin and bathroom) and Dutch barge (saloon)
Our vessels
Designed around your lifestyle.
Whilst no two boats we build are ever the same, the type of vessel you choose will depend on how you plan to enjoy your new home. Have you been itching to go full nomad and explore the length of the country? Or would you prefer to surround yourself with all of your favourite creature comforts and leave ample room for entertaining?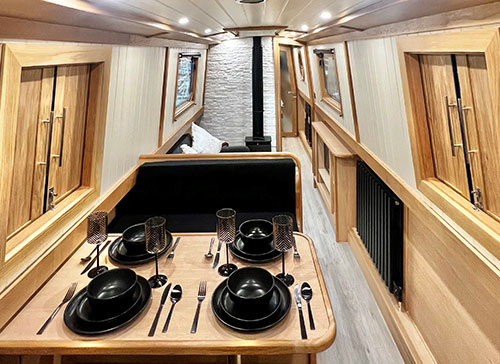 Narrow beam canal boats
Constantly cruise on every UK waterway with our traditional fuel and energy efficient narrowboats.
Narrow boats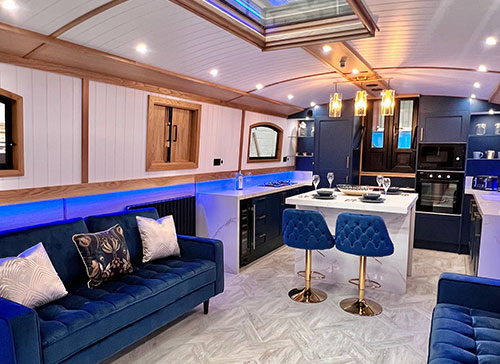 Widebeam house boats
Escape the hustle and bustle of the city and create your dream home on the water for a fraction of the cost.
Wide Beam boats
Together
We'll Make a
Masterpiece
It starts with a vision. We're here to discuss your project, whenever you're ready.