narrow beam
canal boats
Where tradition meets practicality. Our classic narrowboats are designed for those who want full, unrestricted access to every UK waterway. Constantly cruise up and down the country on your lovingly handcrafted, energy-efficient narrowboat that is guaranteed to turn heads wherever you go.
For the explorers
Our narrowboats range from 6'-6'10 in width and up to 57 feet in length, which means that no canal is off limits for you during your adventures.
For those experienced boaters amongst you, that does mean you'll even be able to glide through the much-feared Scare Castle Tunnel (Harecastle Tunnel in Staffordshire). Although hard hats are still definitely recommended, and we hope you aren't afraid of the dark…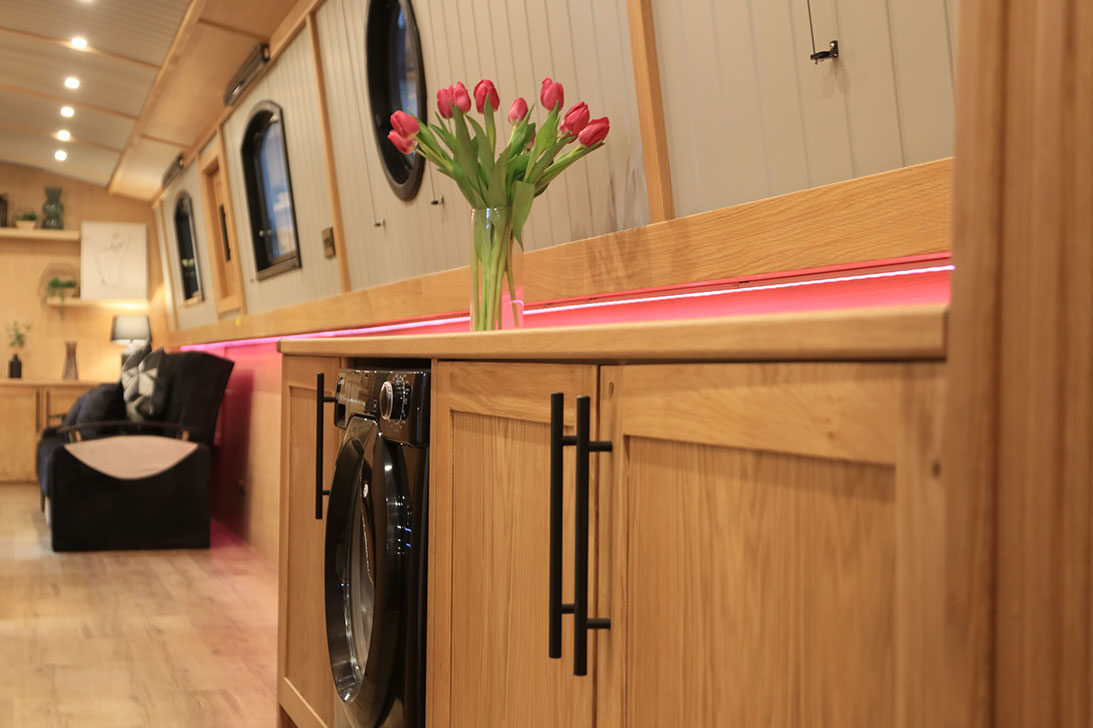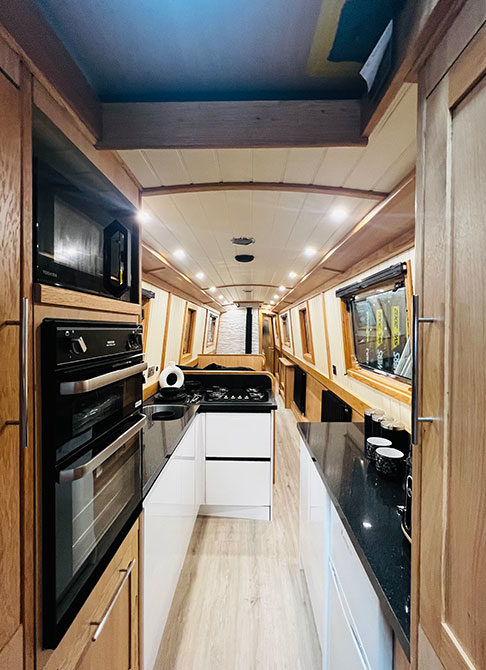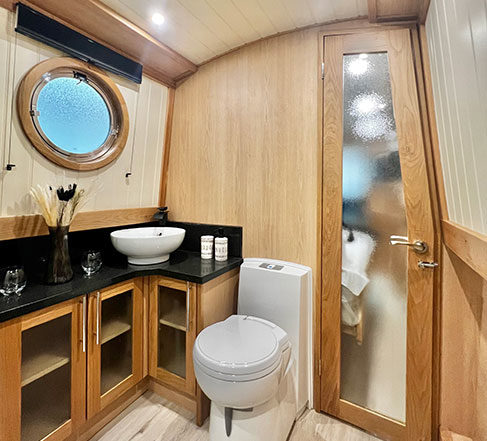 Fuel and energy efficient
We want to keep your boat warm and your pockets full. Each vessel we build comes fully equipped with a range of best-in-class energy-saving features such as marine-specialist insulation, double glazing, and remote-controlled central heating, so you can always escape the unpredictable British weather and return to a toasty boat, wherever in the country you may be.
For those wanting to travel sustainably, we can also fit solar panels to power you through your journeys with complete peace of mind.
All this means you'll have much more left over to spend on activities, exploring, and of course, sampling some of the finest foods from all around the country.
Safety First
Whilst design and practicality are important, they are no substitute for safety. Each and every vessel is equipped as standard with a range of safety features such as carbon monoxide detectors & smoke alarms to suit all sensory needs. Our interior furnishings are also made from flame retardant materials, and there will be ample extinguishers placed around the boat for maximum protection.
For those with limited mobility, we can also add extra steps, ramps and handrails for maximum accessibility. All of these will be carefully designed to blend in with the natural aesthetic of your vessel, so you can cruise with confidence.
"We bought our boat 'new as seen' from The Bespoke Boat Co. There were a few little extras we asked to be added and they couldn't have been more accommodating. The fit-out team are friendly and knowledgeable and were on hand to advise and assist as required. We're really pleased with our 57ft narrowboat."

Pat & Keith, Sangro
Build your
dream
boat
Anything is possible. If you can dream it, then we can build it.
Dimensions
Length – Up to 70′
Beam – Up to 6′ 10″
Propulsion
Diesel battery or hybrid units, all available in a variety of sizes and from a range of manufacturers.
Layout
Starting with a single open space, your vessel can be partitioned up almost any way you like. One bedroom or two, large family dining area or substantial open plan living space… the choice is yours. Our designers will walk you through every possibility.
Furniture
Freestanding or fixed furniture available in a huge variety of styles and materials.
Flooring
Carpet, timber and luxury vinyl flooring available in 100s of colours and designs.
Kitchen
Bespoke kitchens designed to your exact taste and requirements, available in island, U-shape or L-shape configurations. Kitchen units are available in practically any colour and finish, with worktops supplied in timber, stone (granite, marble etc.), composite, resin or laminate.
Bathroom
Practically any style of sanitary ware can be specified, with freestanding or integrated baths and custom commissions available upon request. Wall tiling is available in a huge range of styles and colours to suit your taste.
Internal Decoration
When it comes to interior decoration, you're limited only by your imagination, with carpets, furnishings, wall and window coverings, and cabinetry tailored to your taste and lifestyle.
Exterior paintwork
Not only can we supply 1000s of different shades of commercially available paint, we can also source a custom colour to match a favourite object. We even have a time-served signwriter on hand to paint your boat's name on her transom.
Window style
Portholes and Dutch barge windows available, with coloured or resin window liners in almost any colour.
Other features
Solar power, a hot tub, voice activation, a roof terrace, cutting-edge built-in audio-visual systems and even a wine fridge built into the floor… These are just a handful of the bespoke features we've built into some of our boats. Whatever you want, we'll do our best to deliver.
FAQs
Don't see an answer to your question?
No problem, please contact us and we'll be happy to help.
Together
We'll Make a
Masterpiece
It starts with a vision. We're here to discuss your project, whenever you're ready.