widebeam
house boats
Where comfort meets style. Our luxurious widebeam house boats are lovingly handcrafted to meet your every need, allowing you to escape the hustle and bustle of the city and create your dream home on the water for a fraction of the cost.
Live in luxury
Our widebeam boats range up to 12ft 6 in width and from 60-70ft in length. Whilst they can access roughly 60% of UK waterways, house boats are predominantly designed for those who want to moor in a beautiful marina, have ample space to entertain guests, and make the most of the local cafes, pubs and shops in the area.
They are perfect for couples, families, or even as a future-proof investment to avoid the ever-increasing rents in the major cities. We've seen a surge in the popularity of house boats over the last few years, and we've loved helping our customers bring their dreams to life.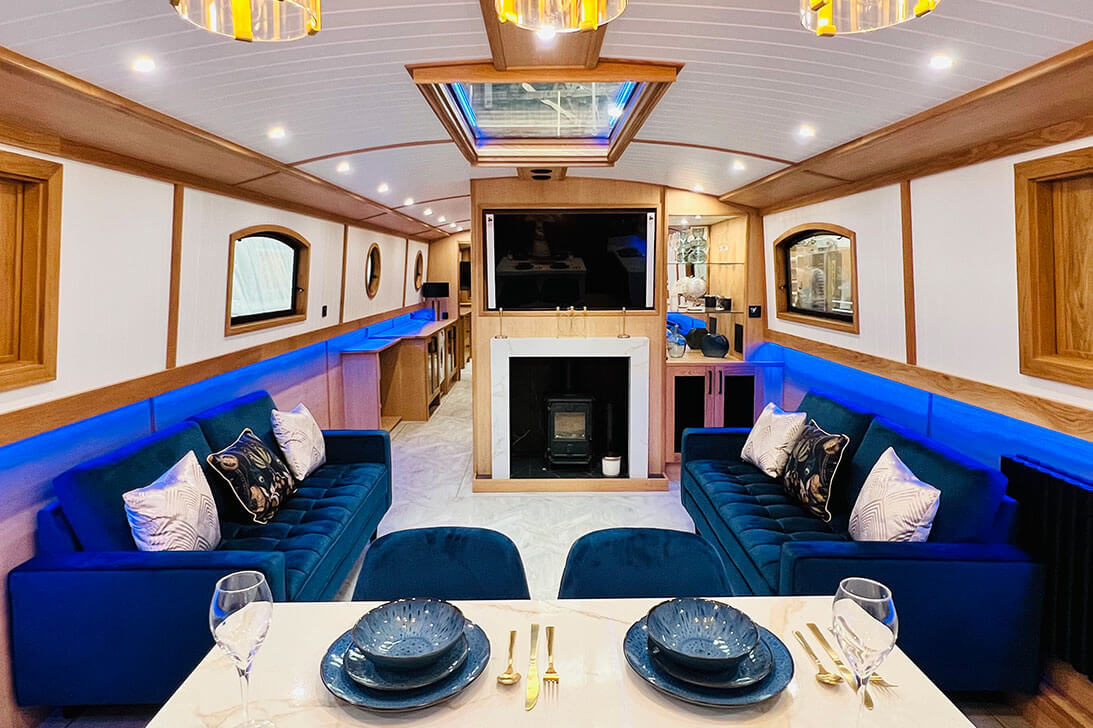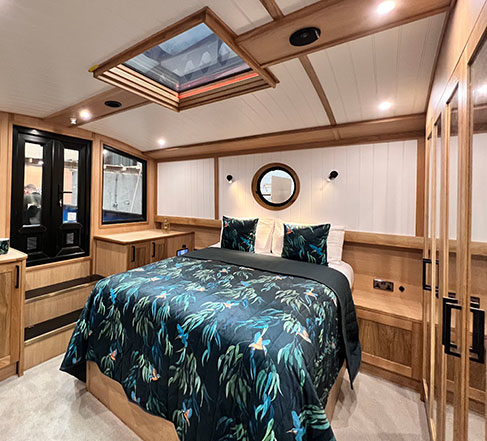 A place for everything
We've been in the game long enough to know that ample storage is a critical ingredient to any good house boat. We go above and beyond to make sure every single inch is accounted for, equipping every vessel with pocket doors which slide right back into the walls.
You'll also find storage under every bed and shelf to maximise the space without looking cluttered, and our design magicians will even make sure you have full depth wardrobes so that you can store all of your outfits with ease. Does that mean no more creased shirts? Yes, it does. You're welcome.
Built around you
When we say truly bespoke, we mean it. Whether it's fold-away beds to give your kids a playroom, an outside tap to wash your pet's muddy paws, or extra power so you can set up a full multi-screen gaming station, we've built all manner of features to suit our customers' lifestyles, hobbies and passions.
All of our vessels are equipped with the very latest technology, systems & safety as standard, but the world is your oyster when it comes to special requests. We promised to build you a boat as unique as you, and we aim to deliver. So if you have any burning questions, please do ask away!
"We visited the bespoke boat company and just knew they were going to be the right fit for us. They listened to what we needed and wanted out of our new home. There was no hard sell or pressure and throughout the whole process they were always available, sending regular updates. Their aftercare has been great – they really do offer a truly bespoke service."

Lisa & Galvin, Lazy Days
Build your
dream
boat
Anything is possible. If you can dream it, then we can build it.
Dimensions
Length – Up to 70′
Beam – Up to 12′ 6″
Propulsion
Diesel battery or hybrid units, all available in a variety of sizes and from a range of manufacturers.
Layout
Starting with a single open space, your vessel can be partitioned up almost any way you like. One bedroom or two, large family dining area or substantial open plan living space… the choice is yours. Our designers will walk you through every possibility.
Furniture
Freestanding or fixed furniture available in a huge variety of styles and materials.
Flooring
Carpet, timber and luxury vinyl flooring available in 100s of colours and designs.
Kitchen
Bespoke kitchens designed to your exact taste and requirements, available in island, U-shape or L-shape configurations. Kitchen units are available in practically any colour and finish, with worktops supplied in timber, stone (granite, marble etc.), composite, resin or laminate.
Bathroom
Practically any style of sanitary ware can be specified, with freestanding or integrated baths and custom commissions available upon request. Wall tiling is available in a huge range of styles and colours to suit your taste.
Internal Decoration
When it comes to interior decoration, you're limited only by your imagination, with carpets, furnishings, wall and window coverings, and cabinetry tailored to your taste and lifestyle.
Exterior paintwork
Not only can we supply 1000s of different shades of commercially available paint, we can also source a custom colour to match a favourite object. We even have a time-served signwriter on hand to paint your boat's name on her transom.
Window style
Portholes and Dutch barge windows available, with coloured or resin window liners in almost any colour.
Other features
Solar power, a hot tub, voice activation, a roof terrace, cutting-edge built-in audio-visual systems and even a wine fridge built into the floor… These are just a handful of the bespoke features we've built into some of our boats. Whatever you want, we'll do our best to deliver.
FAQs
Don't see an answer to your question?
No problem, please contact us and we'll be happy to help.
Together
We'll Make a
Masterpiece
It starts with a vision. We're here to discuss your project, whenever you're ready.